Blog
Microgreen Pesto and Burrata Risotto
by Rohail Ali on Oct 22, 2023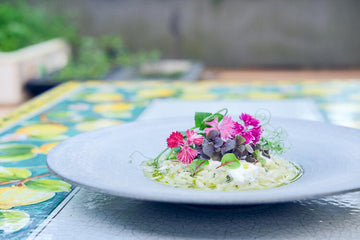 Editor's Note: We're excited to highlight another community chef that is making waves on the Hong Kong dining scene. A self-taught chef, Christopher Ho, has dedicated himself to developing his unique take on blending local flavors with Western cooking techniques. It always brings us immense joy to see our locally grown products treated with the same amount of love and respect that we have when we grow them. We're proud to present Chris' recipes here for all of you budding home chefs to try!
Check out his Floral Garden Pizza here.
"This risotto will wow your significant other on a dinner date, looks and tastes absolutely fantastic, and is deceptively easy to make…
…Top with purple basil for extra flavour and texture, and edible flowers give the entire dish even more wow factor.

Try using bright red, orange, or purple herbs/flowers to juxtapose the green pesto risotto for even more impact!"
Explore the Culinary Expertise of 
Chef Christopher Ho
Ingredients:
(serves 2)
150g risotto rice
~100ml vegetable or a light chicken stock, warmed on the stove
20ml white wine
Large handful of basil, either microgreens or standard
20g pine nuts, gently roasted
50-60ml olive oil
20g Parmigiano Reggiano
1 tablespoon butter
Zest from 1⁄2 lemon
30g burrata or straciatella cheese
10g basil microgreens
4-5 pieces of edible flowers
Red veined sorrel leaves, for garnish (optional)
Salt
Directions:
Gently pan-roast the pine nuts over medium heat until they begin to color and smell fragrant. At the same time, blanch a handful of basil in hot water for 3-5 seconds and immediately cool in ice water (this will help preserve color). To make the pesto, place the roasted pine nuts and blanched basil in a blender and blend while gently pouring in olive oil in a steady stream until a homogeneous mixture is obtained. Set aside. (no Parmigiano is required at this point as we will be adding it directly to the risotto)
Toast the risotto rice over a medium heat with a small spoonful of olive oil until it begins to become translucent, then de-glaze with 20ml of white wine.
Add warmed vegetable or chicken stock to the risotto rice while keeping on medium heat one ladle at a time until the risotto stops absorbing any more liquid and tastes al-dente. Stir constantly and add more stock every time the risotto absorbs most of the liquid. This should take around 11-12 minutes in total.
Take the risotto off the stove and "cream" the risotto by adding butter, Parmigiano Reggiano, pesto, and lemon zest then covering with a cloth for around 1 minute. Stir until well-incorporated and further season with salt if required (depends on the saltiness of your cheese).
To plate, place a circular ring mold in the center of the plate and add risotto into the mold. Gently tap the bottom of the plate to help the risotto spread evenly across the mold, then repeat with the mold removed to fan it out evenly. Place the burrata or straciatella over the risotto (optionally with sorrel placed next to the cheese as garnish), then top with a generous helping of basil microgreens. Garnish with citrusy edible flowers and serve immediately.