FAQs
At Common Farms, we're committed to providing you with the best experience possible. Here, you'll find answers to some of the most commonly asked questions about our farm, seeds, fresh produce, and subscription plans. If you can't find what you're looking for, don't hesitate to reach out to us at hello@commonfarms.com. Our team is always happy to assist you.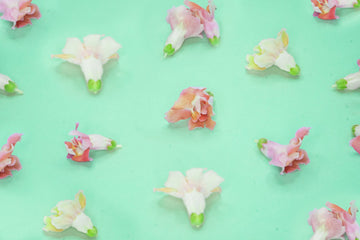 Product and Delivery Questions
What do the categories mean?
Microgreen: smallest leaf stage, most concentrated flavor and nutrition
Micro Salad Mixes: our custom blend of microgreens that taste great together
Boosters: selected microgreens with the strongest aromas and flavors that you can use to complement and elevate your salads, sandwiches, & more
Baby Leaves: stage of growth larger than microgreen, smaller than adult leaves
Leaves: normal sized salad greens
Edible Flowers: our custom mix of edible flowers to add visual flair to any dish or baked treat
What are your delivery options?
We offer home delivery service every Friday afternoon between 12-6pm.
We also have free self-pickup at our farm. First, place your order online, as we don't accept cash payments at the farm/
Farm Address: Unit A5-9, Floor 01, Block A2, Yau Tong Industrial City, 17 Ko Fai Road, Yau Tong
How do I store my produce?
Please store inside the fridge and consume as soon as possible. If stored properly, microgreens, baby leaves, and leaves will keep fresh for up to 7 days. Avoid introducing moisture to the box; if you open and close it regularly, you can add a paper towel to help soak up some moisture.
Edible Flowers have a varied shelf life of 3-7 days depending on the size of the flower. For a full guide on proper storage and care of edible flowers, please see this post.
Do I need to wash my produce?
Give the produce a light rinse before consuming. We grow in a clean, climate controlled indoor environment, so we do not need to use any pesticides, herbicides, or fungicides. Our staff is trained to uphold high standards of sanitation, so rest assured that we take your health seriously.
How do I eat my produce?
Microgreens are a great way to add a boost of flavor, nutrition, and visual flair to any salad, sandwich, or pretty much any dish you can imagine! Follow our Instagram to be inspired by our followers on the many ways you can eat our products. Recipes on our website coming soon. Stay updated by signing up for our newsletter.
What's so great about microgreens?
Chefs love them for their intense flavors and unique appearance. Healthy eaters love them for their nutrition. Kids love them because they're more fun to eat than other veggies. We love them for all of the above! Microgreens are so versatile, and studies show that there's a lot of nutrition packed into their tiny packages. If you're interested in learning more about their nutrition, uses, or how to grow them,head to our blog.
Do you deliver to outlying islands?
Currently we only deliver to Hong Kong island, Kowloon, and the New Territories. We hope to offer delivery to outlying islands in the future. Sign up for our newsletter to stay updated on new delivery options.
---
Farm and Growing Questions
Do you use pesticides?
Absolutely not! One of the biggest advantages to indoor farming is our ability to prevent pests from entering the farm in the first place. We've never used pesticides and never will. We believe in providing super clean, nutritious, and safe food for you and your familiy.
What medium do you use for growing your produce?
We use organic soil and compost to grow our microgreens, herbs, and edible flowers. Though we've tried other soilless mediums in the past, such as hemp fiber mats, we've found that we can grow the greatest variety of plants using soil. In our experience, the produce grows faster, is of better quality, and tastes better.
Do you compost?
Yes! In order to cut down on waste, we compost 100% of our used soil and harvested trimmings. This compost is then used on our outdoor experimental grows, or is sent to partners such as other farms, or schools with composting and gardening programs.
What kind of fertilizer do you use?
Our fertilizer is all natural. We never use chemical or synthetic fertilizers. It comes from two sources: fish waste in our aquaponic system, and the organic nutrients present in our soil and compost.
I'm doing my first edible flower grow. How many weeks until bloom?
Many edible flowers will bloom 6-12 weeks after planting, but if you provide more info on the varieties of flowers that you're growing, we can provide more specific info. Contact us here. For an easy introduction to growing edible flowers, try growing violas. You can read our easy-to-follow guide here.
How do I grow microgreens at home?
Growing microgreens at home is very simple, and is a fun activity that can be enjoyed by kids as well. You can find a simple grow guide on the page for our grow kit. We have some microgreen seeds available in our shop, and will add more in the future. Sign up for our newsletter to stay updated on new growing guides and growing workshops. Want to get started with one of the easiest microgreens to grow - one that also provides the largest harvest? Check out our guide to growing pea shoots in 5 easy steps, and you can pick up pea seeds here.
---
Other
Can I visit your farm?
We are committed to being on open, transparent business, and welcome the opportunity to share our love of urban farming with our community. We run many workshops, tastings, tours, and open house events, but must also limit the number of people who visit in order to maintain a hygenic environment and productive farm. If you'd like to organize a group event, workshop, or tour, send us a message. If you are an individual, please sign up for our newsletter to stay updated on any upcoming events or workshops.
Are you hiring?
You can find a list of jobs on this page. If any of these fit you, don't hesitate to send us a message. If we can collaborate in a different way, follow the contact form provided on the page.
Do you take interns?
Ocassionally, yes! We believe that working with us should be an engaging, educational experience and work hard to provide you with skills that will help you grow in a related field. Shoot us a message and we'll gladly have a conversation.