Media Resources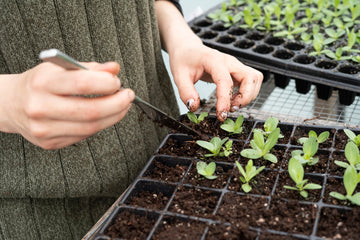 Who Are We?
Common Farms began in 2017 when our founder had the vision to transform the local food system in Hong Kong. We grow quality specialty produce such as microgreens, herbs, and edible flowers to provide both professional and home chefs with delicious, nutritious, and low-carbon footprint produce.
For more: About Us
Details
2017. Common Farms was founded by Jessica Naomi Fong and a 300 sq. ft. experimentation farm was built on Cheung Chau Island.
2019. Commercial production facility built.
Products: Common Farms grows a wide variety of fresh microgreens, specialty herbs, edible flowers and baby greens. Contact us for our full catalog.
Customers include: 8 1/2 Otto e Mezzo Bombana, Amber, Arbor, Caprice, Four Seasons Hotel, Giando, Halfway Coffee, Little Cove Espresso, Ma Restaurant, Mandarin Oriental Hotel, Mira Hotel, Mono, Roganic, Rosewood, Vea, Whey.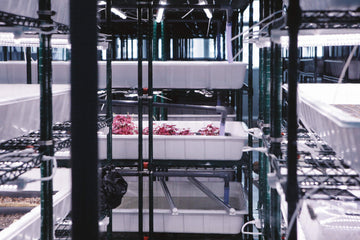 Why Grow Indoors?
Simply put: It saves resources, boosts yield, and there's all-year harvest.
Optimal climate control
No pesticides. No herbicides. No fungicides.
Over 10x yield per sq. ft. compared to traditional farming
95% less water used
Grown with natural, organic soil and fertiliser
High-efficiency LED lighting
Super clean produce packaged with strict hygiene standards
Technologies Used
LED lights: specifically designed for horticulture, high efficiency
Controlled Environment Agriculture: a method of growing indoors where temperature, humidity and other factors are controlled precisely in order to provide the optimum environment for plants to thrive
Vertical Farming: stacking multiple growing layers for efficient use of space indoors. Our farm can grow over 10x the amount of produce on an equivalently sized outdoor farm.
Have more questions? See our FAQ.
In The Media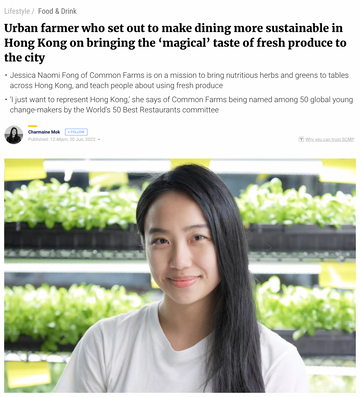 Article: South China Morning Post (2022)
Jessica chats with SCMP Food and Wine editor Charmaine Mok to share the story behind Common Farms and to comment on the future holds for the farm after her feature in the "50 Next Change-Makers" list.
Interview: RTHK 香港電台 (2022)
On "All Being Well", Jessica sits down to shine a light on urban farming and locally grown produce during the epidemic.
Our founder Jessica was featured on The Worlds 50 Best Restaurants' 2022 "50 Next Change-makers" list - her profile was spotlighted in El Correo, El Pais, Repubblica, The Gourmet Journal, Deia, etc.
---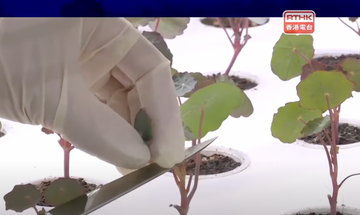 Feature: RTHK 香港電台 (2022)
Spotlighted on the "味之天下 : 共融廚房" programme as a preferred producer for Chef Eric Raty from Arbor.
Feature: Discovery Channel Southeast Asia (2021)
Common Farms was featured as the only farm and producer in this Michelin-chef focused documentary with the theme of resilience in Hong Kong.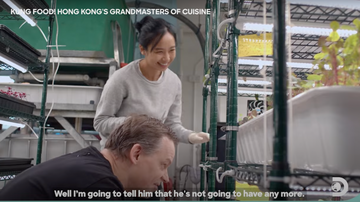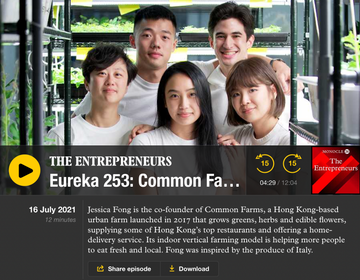 Podcast: Monocle (2021)
Jessica speaks on Monocle's "The Entrepreneurs": Eureka Podcast, which features innovative businesses and inspiring start-ups.
Interview + Podcast: Lane Crawford (2020)
An in-depth interview into the story behind Common Farms and the philosophy that makes us tick. Stunning photos of our plants included.