Blog
Floral Garden Pizza
by Rohail Ali on Oct 22, 2023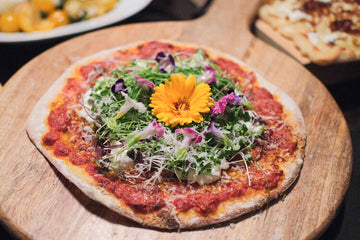 Editor's Note: We're excited to highlight another community chef that is making waves on the Hong Kong dining scene. A self-taught chef, Christopher Ho, has dedicated himself to developing his unique take on blending local flavors with Western cooking techniques. It always brings us immense joy to see our locally grown products treated with the same amount of love and respect that we have when we grow them. We're proud to present Chris' recipes here for all of you budding home chefs to try!
Check out his Microgreen Pesto and Burrata Risotto here.
"The embodiment of healthy junk food; this is an indulgent, velvety burrata pizza to satisfy any guilty-pleasure cravings…
…Still, it's equally packed full of nutrients, including beta-carotene and anti-oxidants from bok choy microgreens. Garlic chives further dial up the flavors another level.

This is definitely a pizza that you won't stop eating after a single slice!"

- Chef Christopher Ho
Ingredients:
Serves 4 (2 pizzas)
300g bread or 00 flour
1 teaspoon yeast
2 teaspoons sugar
Pinch of salt
200ml warm water
200ml canned Italian tomatoes, reduced by half (or canned tomato sauce)
1 clove garlic
Parmigiano Reggiano
250g burrata cheese, torn into small pieces
Garlic Chive microgreens
Bok Choy microgreens
Edible flowers (optional)
Directions:
To make the pizza dough, mix the flour, sugar, salt, and warm water either by hand or a stand mixer with the hook attachment until a smooth dough is formed. Brush a bowl with olive oil then place the dough in the bowl. Cover with a towel or cling film and allow to proof for 1.5 hours until doubled in size.
To make the tomato sauce, reduce the canned tomatoes with a clove of garlic over medium heat by half, crushing the tomatoes with a spatula. If still watery, reduce further until a thicker consistency is obtained. Set aside.
Dust the countertop with flour, then roll the pizza to a thickness of 1cm (or desired thickness). Next, top with tomato sauce and shave a generous helping of Parmigiano Reggiano on top (this will melt into the tomato sauce to give a stronger and more complex flavour). Place in the oven at 220C for 8-10 minutes until the edges are golden brown and the entire pizza can be tilted at a diagonal without the bottom sagging.
Top the pizza generously with torn burrata pieces, then sprinkle bok choy microgreens and garlic chive microgreens over the center of the pizza. Garnish with edible flowers and serve immediately.