Blog
Why We Use Plastic
by Rohail Ali on Oct 22, 2023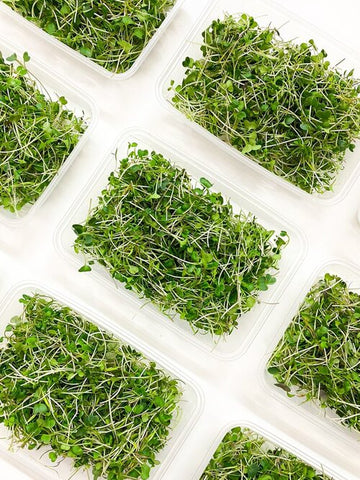 *Editor's Note: as of the end of August, we are actively looking for sustainable packaging solutions, as well as a sustainable loop delivery model. If you have any suggestions, please contact us.
Here's a question we get all the time: why do you still use single-use plastic boxes for your produce? It's a good question. After all, Hong Kong disposes of over 46 million pieces of single use plastic every week!* Waste reduction should be a serious goal for all of us, and that's why we don't see our plastic boxes as single use.
We've collected them from both our restaurants and home customers and put them back to the work on the farm where they're used in a lot of different ways from growing small batches of new seed varieties, to upcycled grow kit containers for workshops, or for storing all the little odds and ends of equipment you tend to accumulate when building an indoor farm.
Soon, we're also going to start offering collection points at our retail locations so you can bring them back to us when you pick up new produce, to ensure that the boxes are put to good use instead of ending up in the landfill.
That being said, our main priority is eliminating food waste, which ranges from 32% to up to 56% of total waste produced. In comparison, the share of plastic waste ranges from 6.4% to 13%. Plastic boxes play a part in this goal, having proved themselves as the best method of preserving our produce and preventing things from being spoiled and thrown away. We've tested out plant-based plastics and other more biodegradable methods of packaging in the past, but haven't found a good plastic alternative that keeps our produce at optimal levels of freshness, taste and nutrition.
Two different chefs have told us "we actually have been reusing your boxes for other supplier's produce because they keep things fresher."
There are lots of ways we do our best to be as sustainable as possible, like composting all our unsold produce and trimmings, but there's always room for improvement! The search for a plastic packaging alternative will continue, and we'll share more about our thought process as we're committed to transparency in our production processes.
*Stats on waste from: International Bank for Reconstruction and Development / The World Bank. (2018). What a waste 2.0 - A Global Snapshot of Solid Waste Management to 2050. (Urban development series). p.30 Retrieved from https://openknowledge.worldbank.org/handle/10986/30317