Blog
4 More Microgreen Recipes
by Rohail Ali on Oct 22, 2023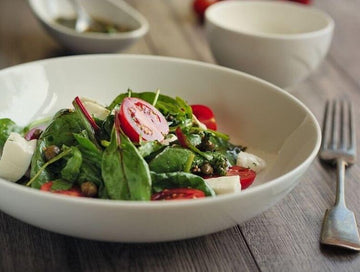 If you liked our first microgreen-focused recipe list, then you'll be sure to like this one! This collection of recipes all feature microgreens to brighten up your meal and pack in a wide range of nutrients at the same time. Many microgreens are high in vitamins such as A, C, E, K, and minerals like iron and potassium. Their intense and unique flavors make these dishes customizable to your taste, leaving you lots of room for experimentation. Visit us on Instagram @commonfarms and share your take on these dishes. We love hearing from our community!
1. Avocado Toast With Microgreens
You've had avocado toast, but have you had it with microgreens? It brings a nutritious breakfast classic to a different level! Avocado toast is one of the most popular, trendy breakfasts, and for a good reason - it's a balanced meal that contains carbohydrates, healthy fats and fibre. This delicious version includes assorted microgreens to add texture, a fresh, summery flavour, and nutritional value. The red pepper flakes and balsamic glaze finish the dish off with hints of spice and tartness. This simple recipe is ideal for a busy summer morning and is sure to provide a healthy start to the day.
2. Tomato and Mozzarella Salad with Microgreens
Juicy tomatoes and creamy cheese are a classic combination, making the Italian tomato and fresh mozzarella salad a tried and true summer favorite. Here, the recipe is enhanced with microgreens to add delicate crunch and refreshing flavors to the salad, pairing wonderfully with tartly sweet balsamic vinegar. A go-to option for an appetizer or side, or even a light lunch in the heat.
3. Vegan Rainbow Veggie Wraps
These veggie wraps by Plant Perks are a no-cook, balanced dish. They're also easy to carry on your summer trips and adventures. Whole-wheat wraps are filled with a colorful explosion of yellow and red bell peppers, purple cabbage, green microgreens and other veggies. These wraps are a delicious and visually appealing meal option for busy days when you don't want to skimp on taste and nutritional value.
4. Microgreen Pesto
Pesto is incredibly versatile. It can enhance a wide range of dishes, suitable as a dip, a pasta sauce, in sandwiches, or as a salad dressing. This nutty microgreen pesto **is a great option - you can customize the ratio of microgreens to herbs to make different types of fresh, vibrant sauce. A perfect accompaniment for any quick, healthy meal or snack, this item is great to have on hand throughout the summer.
For 3 vegan pesto recipes created in collaboration with plant-based nutritionist chef Tiffany Lau of Soulistic, be sure to check out this post!