Blog
3 Powerful Pesto Recipes (Vegan)
by Rohail Ali on Oct 22, 2023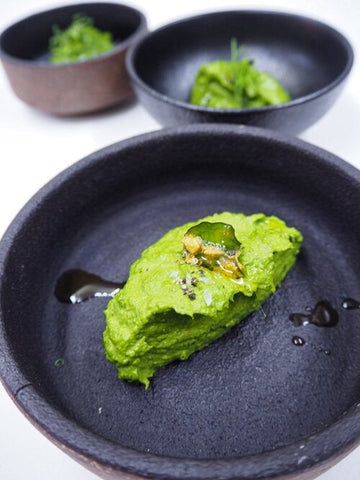 Pesto!
We love pesto. It's something so versatile that you can make it with practically any combination of leaves, nuts, and spices. It tastes incredible on all sorts of breads, crackers, pasta, salads - well, there's not much that pesto goes with that we don't like. Classic preparations use Italian hard cheeses like Parmigiano-Reggiano or Pecorino Sardo, but you don't have to forgo pesto altogether if you've given up dairy or animal products.
We worked with one of our favorite vegan chefs in Hong Kong, Tiffany Lau (Soulistic), a certified plant-based chef and plant-based nutritionist, to develop three vegan pesto recipes that are guaranteed to suit any meal or occasion.
All three recipes are packed with the powerful flavors and nutritional benefits of pesticide-free, organically-grown produce from our urban farm. They feature some of our favorite plants to grow at Common Farms: Green Kale, Green Pea, and Garlic Chives. Always try to source fresh, locally-grown vegetables in order to maintain peak levels of flavor and nutrition!
Ingredients
Yield: 1 cup (250g)
70g torn kale (no stems)
30g baby spinach
15g fresh basil (no stems)
125g raw cashews, or nuts of your choice
65g extra virgin olive oil
1 tbsp lemon juice and zest
1 garlic clove, roughly chopped
5g maple syrup
2g salt, more to taste
2g black pepper, more to taste
Instructions
In a food processor or high-speed blender, pulse the kale, salt, garlic and lemon juice until smooth.
Add cashews or your choice of nuts and pulse until the nuts are ground to desired consistency
Add in olive oil and maple syrup for a touch of extra sweetness, and pulse
Top with some pieces of torn kale, crushed nuts, coarse sea salt and freshly ground black pepper for added visual flair
2. Pea Tendril Pesto
Ingredients
Yield: 1 cup (250g)
70g pea tendrils
10g fresh basil
125g raw cashews, or nuts of your choice
65g extra virgin olive oil
1 tbsp lemon juice and zest
1 garlic clove, roughly chopped
2g salt, more to taste
2g black pepper, more to taste
Instructions
In a food processor or high-speed blender, pulse everything together except for the olive oil
Drizzle the oil in slowly while the blade is running. Add as much or little olive oil as you want. Less olive oil for chunkier texture. More olive oil for a smooth and creamy texture.
Taste and adjust seasonings till desired flavor
Top with some curly pea tendrils, crushed nuts, coarse sea salt and freshly ground black pepper for added visual flair
3. Peppery Garlic Chives Pesto
Ingredients
Yield: 1 cup (250g)
80g baby spinach
48g garlic chives
65g raw cashews, or nuts of your choice
65g extra virgin olive oil
1 garlic clove, roughly chopped
1 tbsp lemon juice
5g salt, more to taste
Instructions
Combine spinach, chives, garlic, cashews and salt in a food processor or high-speed blender. While the motor is running, pour in olive oil through the top.
Stop and scrape a few times until all ingredients are thoroughly combined.
Store in an air-tight container in the fridge until ready to use.
Top with some microgreen garlic chives, crushed nuts, and coarse sea salt for added visual flair