Blog
Limited Edition Product: Ho La Ho Salad with Nuta Dressing
by Rohail Ali on Oct 22, 2023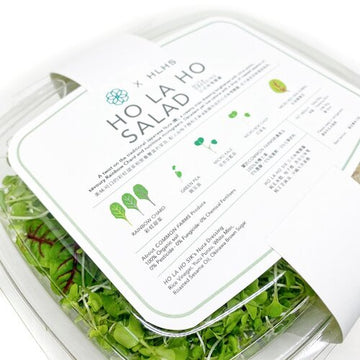 Locally-Grown and Hand-Made in Hong Kong.
We're thrilled to launch this limited edition salad box in collaboration with Chef Christopher Ho of Ho La Ho Sik. His passion for elevating local flavors is coupled with a desire to promote sustainability in the kitchen, and he makes sure to consciously address lowering his food waste and carbon footprint in his recipes.
Chris is a regular visitor to our farm, and we invited him to choose some of his favorite varieties for this salad box. Taking into account their appearance, texture, and flavor profile, Chris selected a range of microgreens and salad greens that complement one another, and developed an original take on Japanese Nuta as the accompanying dressing.
Community collaborations are what we're all about, and it brings us immense joy to see our locally grown products treated with the same amount of love and respect that we have when we grow them. We're proud to present Chris' salad and dressing here for all of you to try!
A Spotlight On Local Production
Did you know that only around 2% of vegetables eaten in Hong Kong are grown locally? We're on a mission to raise this number. The local food movement is growing, and we're excited to be a part of it! Most of Hong Kong's vegetable supply is imported from China. However, many of the special varieties we grow at Common Farms are often flown in from much further abroad such as Europe or New Zealand.
Importing fresh food by air leads to a huge carbon footprint and a big drop in flavor and available nutrition. In order to satisfy our customers' desire for the freshest ingredients possible, we grow indoors at an industrial space and are able to grow more than ten times the amount of produce as an outdoor farm of the same footage. Most importantly, indoor farming means being protected from pests and bad weather, enabling us to keep our food 100% pesticide free and at a consistent level of quality throughout the year.
Growing 24 floors up in one of the most densely populated places on earth, we truly are putting "hyper localized food production" into practice. Why are we growing veggies in skyscrapers? Because we truly believe that growing local means growing the best products with more flavor, more nutrition, and less pollution and waste.
Working with chefs like Chris who have a strong desire to promote local produce allows us to highlight the need for more food production in our city in order to increase food security and address issues of food waste and nutrition.
Chris is hoping that more people will look around at our local farms to see the amazing fruits and vegetables on offer before heading to the luxury supermarkets and choosing expensive imported produce with a high carbon footprint.
Salad Ingredients
Rainbow Chard, Green Pea Microgreens, Kale Microgreens, Bok Choy Microgreens, Red Veined Sorrel Microgreens
Dressing Ingredients
Rice Vinegar, Yuzu Ponzu, White Miso, Roasted Sesame Oil, Okinawa Brown Sugar
Collaborate with us!
We grow remarkable food with your best interests at heart. Tasty, healthy, and good for the planet. This applies to our community collaborations as well, and we're always on the lookout for opportunities to work with people that share our philosophy.
If that's you, please don't hesitate to reach out.