Blog
Ho La Ho Sik's Salad with Nuta Dressing Recipe
by Rohail Ali on Oct 22, 2023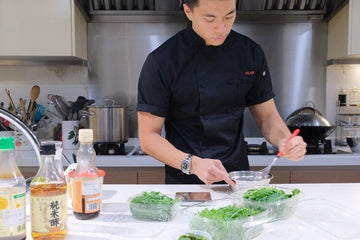 A Community Collaboration
Chef Christopher Ho of Ho La Ho Sik is a regular visitor to our farm, and we invited him to choose some of his favorite varieties for this salad box. Taking into account their appearance, texture, and flavor profile, Chris selected a range of microgreens and salad greens that complement one another, and developed an original take on Japanese Nuta as the accompanying dressing.
We're so excited to share his recipe with you, and hope you'll try it out at home! Read the full story behind the creation of this salad here.
Dressing Ingredients
Makes enough for 5 salad portions
50ml Rice Vinegar
40ml Ponzu
80g White Miso
12ml Sesame Oil
5g Brown Sugar
10ml Mirin
Salad Ingredients
Rainbow Chard
Green Pea Microgreens
Kale Microgreens
Bok Choy Microgreens
Red Veined Sorrel Microgreens
Directions
To make the dressing, simply add all the ingredients to a bowl and whisk together until well-incorporated and all the sugar has dissolved. Once made, the dressing can be kept in the fridge in a sealed container for up to 3 weeks.
In a pan or in a 180C oven, roast walnuts until browned and fragrant; gently salt and set aside.
Mix together the salad leaves and the dressing (~40ml per serving), and toss until well incorporated.
To serve, optionally pan fry a chicken thigh, thinly slice and season with yuzu salt and sesame oil; then serve together with the salad and walnuts.