Blog
Easy-to-Follow Edible Flower Recipes
by Rohail Ali on Oct 22, 2023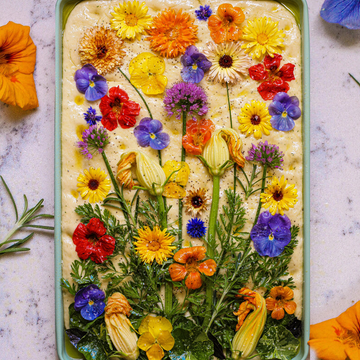 If you are wondering how else you can use edible flowers, look no further. We're sharing these easy-to-follow edible flower recipes that anyone can enjoy at home, or can even be a good homemade gift for Christmas. Enjoy!
Summer Vegetable Focaccia
It is definitely not summer right now, but we found this recipe that's easy enough to begin baking bread (in case you haven't hopped on that train, yet this year). Summer or not, this makes for a perfect simple bread making project.
2. Edible-Flowers Cupcakes
An oldie but a goodie, this recipe is by no other than Martha Stewart. Cupcakes are a delight, holiday season or not.
3. Edible Flower Cookies
This 5-ingredient cookie recipe is not only simple, it looks really fun to do, too.
4. Edible Flower Pistachio Shortbread Cookies
Another cookie recipe, but this time it is gluten-free, thanks to G-Free Foodie.
5. Viola Candy Bark
It's the perfect season to try new things, including making your own candy. Easy and fun, and most of all, it makes a perfect dessert for sharing with others. See the recipe from Better Homes & Gardens below.