Blog
5 Cooked Microgreen Recipes
by Rohail Ali on Oct 22, 2023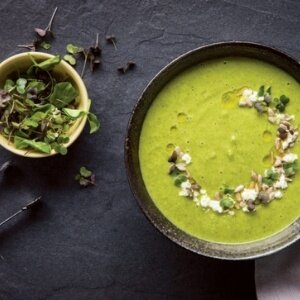 We've previously shared mircrogreen salad recipes. This time, we're sharing cooked microgreen recipes that are just as nutritious and healthy, but are also highly sumptuous.
1. Roasted Broccoli Microgreen Soup
This vegetable and nutrient-packed soup from Alive is a simple, hands-off recipe - simply involving roasting the vegetables for maximum smokiness and flavour and blending them with tangy feta cheese, beans full of protein, and various seasonings including lemon juice and chili powder to add depth to the dish. It's also a great option to make ahead, lending itself well to reheating quickly and conveniently.
2. Pho Bo With Microgreens
This Vietnamese noodle soup is a perfect option for nights where you're craving a hot, filling meal. Much quicker and easier to prepare than it looks and sounds, the microgreens add a crisp texture and freshness to this traditional dish. The recipe from Fooby includes customisable toppings, creating a family meal that is sure to satisfy and impress everyone.
3. Egg White Omelette with Avocado, Goat Cheese and Microgreens
Omelettes are an easy breakfast option packed with protein and nutrients. This egg white omelette from The Merrythought is high in protein and includes healthy fats and the fresh, creamy texture from avocado and goat cheese. The microgreens add some variety to the dish and the vitamins and iron that were removed in the egg yolk while lacking the cholesterol. Although this recipe uses just the egg whites, the yolks can easily be added to include more vitamins and iron.
4. Microgreen, Zucchini and Carrot Cake
One of the more unique ways to use microgreens, this savoury take on a traditional carrot cake by Daily Harvest Express includes zucchini, cheese, and assorted microgreens of your choice to create an interesting dish. Flavoured with garlic powder, this cake is great as a healthy snack to keep around or as a side. It can also be made gluten-free depending on the flour used, and the practical serving-sized shape make it perfect to carry around or as a school snack.
5. Pizza with Pesto, Mozzarella, and Arugula Microgreens
Pizza is one of those dishes that is universally loved. It has so many possible variations for the sauce, toppings, and even base - this version by Little Wild Things Farm uses a pesto base as its pizza sauce, fresh mozzarella and cherry tomatoes. The arugula microgreens add a nutty, peppery flavour while packing in the vitamins and minerals. It's a great way to get kids involved by building their own pizzas, and is sure to be a hit with family and friends.