Blog
5 Microgreen Recipes Perfect for Summer
by Rohail Ali on Oct 22, 2023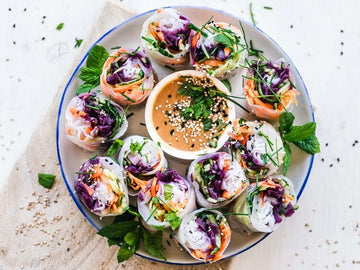 Hong Kong has already reached the height of its hot, humid summer, and we've been on the lookout for meals that embrace the summer spirit. We're craving dishes that are fresh, fruity, light, and quick enough to make without cutting into our summer activities.
This collection of recipes all feature microgreens to brighten up your meal and pack in a wide range of nutrients at the same time. Many microgreens are high in vitamins such as A, C, E, K, and minerals like iron and potassium. Also, their intense and unique flavors make these dishes customizable to your taste, leaving you lots of room for experimentation.
Editor's Note: We respect creators' rights to their content. Wherever we have posted original photos we have done so with the original author's permission. Please follow the links to the original posts for full recipes.
1. Fresh and Fruity: Berry and Microgreen Salad
This colorful salad is perfect for a hot summer's day, featuring fruity flavors from blackberries, tartness from the caper berries, and crunchy pine-nuts. The addition of the fresh berries, loaded with antioxidants, is a great way to make the most of seasonal fruits. Arugula microgreens add zest and texture to form a nutrient-dense base to this salad, but can be substituted with other spicy or mild microgreens. The different colors also serve to make this one of the prettiest salads you've ever seen - perfect for an Instagram post!
Find the recipe here courtesy of A House in the Hills
2. Daikon Rolls With Avocado and Microgreens
Daikon radish replaces rice paper in this contemporary twist on a Vietnamese classic to add spice and freshness to this recipe. The rolls are filled with cucumber, avocado, microgreens and herbs including mint and shiso. These contrasting textures and flavours combine to form a delicious, refreshing, and nourishing dish. The creative aspect of the radish wrap is sure to impress your guests. Suitable as both an entree and an appetizer, the fresh veggies and citrus garnish make this a perfect summer dish.
Check out the full recipe from One Green Planet.
3. Tropical Green Smoothie
Smoothies are a quick and easy breakfast or snack option and are especially refreshing during the summer. This recipe includes bananas to sweeten and thicken the smoothie. Add microgreens and other greens to pack the smoothie full of nutrients and vitamins, and mangoes to add that tropical summer flavor. Try this customizable, five-minute smoothie for an energizing, nutritious drink to kick start your day.
Get your green smoothie recipe from Solluna here.
4. Colorful Microgreen Salad with Strawberry-Lime Vinaigrette
Another fruity salad - this time featuring strawberries - is another ultimate summer dish. This one features a light, sweet and sour vinaigrette dressing, with a base made of microgreens, crunchy snow pea, and spicy radish. With the option of using edible flowers as a garnish, this is another beautiful dish that is a delight to eat and behold.
Full recipe from Vegetarian Times here.
5. Simple Sweet & Spicy Microgreen Slaw
This one is super quick and easy. The sweet and spicy slaw is crisp and refreshing - an ideal summer side dish or sandwich filling. Full of contrasting sweet and sour flavours from the pineapple, grapes, and lemon juice, further depth is achieved by the addition of microgreens and mustard. Feel free to play around with the ingredients and amounts until you reach the perfect balance.