Blog
Tasty, Crunchy, Healthy
by Rohail Ali on Oct 22, 2023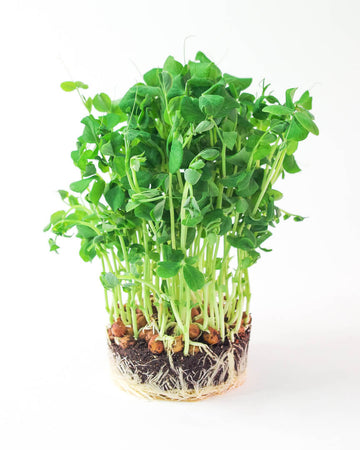 Even if you think you don't have a green thumb, growing pea shoots is a super easy way to produce your own delicious, fresh food at home. They grow fast, are packed with nutrition, and add a tasty crunch to wraps, salads, and all sorts of Asian cuisine. In as little as 10 days, you and your family can enjoy a home-grown harvest that is completely organic and pesticide-free!

Growing sprouts indoors is a fun, easy way to teach your kids healthy eating habits and educate them about the importance of local food production. Over 95% of fresh produce in Hong Kong is imported, resulting in nutrient loss due to transport, a high carbon footprint, and tons of unnecessary food waste. Follow our guide to growing your own pea shoots and join us in building a greener, healthier future for Hong Kong.
Nutritional Info
Scientific studies show that, compared to other ready-to-eat green leafy vegetables, pea shoots have a high content of:
Vitamin C, E, A
Potassium
Phosphorous
Beta-Carotene
Lutein
Flavonoids
The nutritional content of pea shoots has also been found to be generally stable during storage post-harvest, so you can grow extra and enjoy adding boosts of flavor and nutrition to your diet throughout the week!
From Seed to Harvest in 5 Easy Steps! 
1. Soak your pea seeds in cool water for 8 to 12 hours.
Soaking helps speed up germination, and will cause the seeds to roughly double in size. After 8-12 hours, drain seeds, rinse thoroughly, and drain again. We recommend using speckled pea or sugar pea for sweet, crunchy snacking purposes. If you want something with a bit more flair for garnishes, green pea produces delicate twisting tendrils that can make any dish a work of art.
Visit our seed store if you want to use the same high quality seeds we use at Common Farms.
2. Spread the seeds onto soil.
Put 3-4 cm of organic potting soil or compost in your growing container and lightly press it flat. In these photos we upcycled a clear plastic cup, but you can use anything, a flower pot, bowl, tray, an old box etc. Get creative! Spray the soil with water so that it's thoroughly moist but not soaking wet. Evenly spread the seeds in a single layer so that they're almost touching, and give them another spray of water.
3. Cover your container for a 3-4 days.
Your seeds need darkness and moisture to germinate properly. Place your container in a room temperature location and mist the seeds as needed so that they don't become too dry or too drenched. After a day or two, you'll see the roots emerge from the seed and find their way into the soil. Keep the container covered until the seeds have sprouted and are a couple centimeters tall.
4. Place the container in a windowsill or other well lit location.
Avoid direct sunlight as the sprouts are sensitive at this stage and might get burned. Water as needed so that the soil is slightly damp to the touch but not dry or soaked.
5. Harvest in 8-12 days.
Once the leaves have opened and the pea shoots look ready to eat, cut the stems a couple centimeters above the soil with scissors or a sharp knife.
Enjoy! You can snack on pea shoots raw, put them in salads and sandwiches, lightly sautée them, or blend them into a soup. Share the love and tag us when you upload photos, we'd love to see how you use your home-grown pea shoots!
Special Tip: After harvesting, you can keep watering the seeds and may get a second harvest of up to 80% the original amount.