Blog
Easy, Spreadable Vegan Cheese
by Rohail Ali on Oct 22, 2023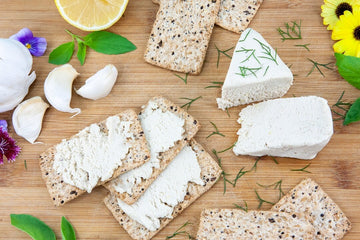 What is it about cheese that induces so much craving? For some people, it's the tangy creaminess. For others, it's the sharpness, or it's magical ability to be paired with almost anything. Whether you've stopped eating dairy out of a personal choice, or your body is unable to tolerate it, you might find yourself sometimes missing the real deal. Here's a vegan recipe that gives you a savory, spreadable cheese alternative for just those times.
This simple, 8 ingredient recipe uses blended cashews to provide the creamy base. Garlic and lemon zest add tartness and depth, and nutritional yeast binds it all together to give it that cheesy texture and taste. For added flavor, coat it to your preference in fresh herbs such as dill, parsley, or basil.
We tried it spread on multi-grain seeded crackers, and it was a delicious snack that satisfied hunger without feeling heavy or fattening. Try spreading it in sandwiches, adding it to salads, topping off pizzas or pasta, or anything in between. Tag us on Instagram if you figure out the perfect combination!
Full credit goes to Minimalist Baker for developing this crave-worthy recipe. Head to their website for the full recipe.
Nutrition Per Serving (1 of 32 one-tbsp servings)
Calories: 55
Fat: 4.4g
Saturated fat: 0.7g
Polyunsaturated fat: 0.73g
Monounsaturated fat: 2.53g
Sodium: 38mg
Potassium: 70mg
Carbohydrates: 3.1g
Fiber: 0.5g
Sugar: 0.6g
Protein: 1.8g
Vitamin C: 2.5mg
Iron: 0.5mg